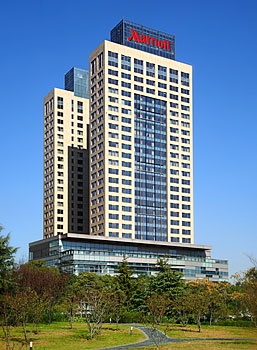 The JW Marriott Hotel Shanghai Changfeng Park is located at the Changfeng Ecology Commercial District in west Shanghai, facing the picturesque Changfeng Park and Suzhou River. It is well positioned, neighboring the Shanghai Convention & Exhibition Center of International Sourcing and the internationally renowned National Exhibition and Convention Center (NECC). The hotel is also adjacent to Changfeng Parkside Plaza, one of the largest shopping malls in west Shanghai.
The hotel is easily accessible, located just a 15-minute drive from the Hongqiao Integrated Transportation Hub, which houses the Hongqiao International Airport, Hongqiao Railway Station and Bus Station.
The property's 501 spacious guestrooms boast scenic views of either the Changfeng Park or Suzhou Creek. Each guestroom features a full array of modern amenities such as a full-size executive writing desk, flat-screen TV, JW Marriott's plush signature bedding and signature bath amenity line from partner Aromatherapy Associates.
The JW Marriott Hotel Shanghai Changfeng Park has six world-class restaurants including the newly renovated Park Café, Sakitori and The Lobby Lounge, providing versatile and unique culinary experiences. Park Café is an enticing all-day dining restaurant that features healthy and delicious international cuisine. Japanese restaurant Sakitori offers authentic fare prepared by Japanese native chefs while The Lobby Lounge brings classic high tea experience and a treat of stylish delicacies. Upscale Chinese restaurant Pearl offers authentic Cantonese and local Shanghai cuisine while D?ME Steak and Wine brings quality steaks that will rival the best in town. Finally Panorama Bar, located at the top floor, offers a wide selection of wines, whisky and cigars.
The hotel offers more than 1,500 square meters of multi-function event space featuring the state-of-the-art technologies and facilities. Venues include a 770-square meter Grand Ballroom and 13 individual function rooms equipped with wireless high-spee.